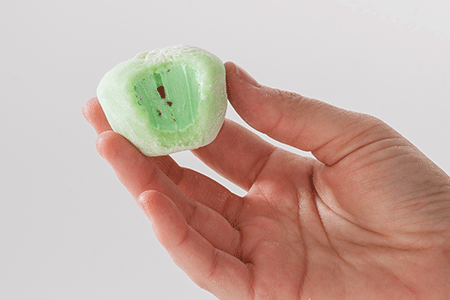 Why Mochi is the Perfect Office Snack
By: My/Mochi Ice Cream
5 Reasons You Should Have Mochi in Your Office
Today, businesses are doing everything they can to improve company culture. Research has shown that happiness increases productivity by up to 12 perfect. There are many things that contribute to a fun company culture, such as fun events, gym memberships, music, incentives, and even snacks. We, of course, want to focus in the snack department and how it can improve your company culture.
1. Can Be Shared by the Whole Team
The best part about Mochi is it is small enough for an individual to enjoy, yet big enough to split up between 2-3 people. In a work environment, there may be a team of individuals which makes Mochi the perfect treat to share. You can simply cut it into halves or thirds and it gives each person just the right amount.
2. Treats Provide Motivation
Getting through a long work day can be tough. It's best that you take small breaks throughout your day to take your mind of everything you're doing. There's no better way to do that than with a nice treat, like Mochi. You can use it as motivation to get through one task and on to the other. As a business owner or manager, you can even use it as an incentive for fun activities and prizes.
3. So Many Flavors to Choose From
Everyone has their own flavor profile and it can be hard to satisfy everyone when it comes to office snacks and food. You can't necessarily cater to every one of their single needs, but with Mochi, you can cater to almost everyone. There are many different flavors to choose from such as classic vanilla or chocolate along with fun flavors like mango or red bean. You can buy multiple boxes of different flavors or you can even get a variety pack for all to share.
4. Can Share with Clients
Whenever a client works in your office you want to be sure you provide the best hospitality. Most companies will have coffee, tea or water, but spice things up and give your clients a taste of Mochi ice cream. Providing a tasty snack will put them in a good mood along with giving them a fun experience coming into your office. Also, like stated above, you can split between multiple people and share them like tapas.
5. Experience New Culture
Everyone has experienced ice cream at some point, but not everyone has enjoyed the taste of Mochi Ice Cream. Most people will even ask, "What is Mochi ice cream?" To answer that, it originated in Japan almost 105 years ago. Mochi is a sweet rice flour dough typically filled with premium ice cream, known as Mochi ice cream. It originated in Japan almost 105 years ago! Get away from the usual fruit snacks and chips for your employees and give them a new experience with Mochi.
Create Happier Work Environments with Mochi
Creating a company culture is important for every business. From sharing to snacking and impressing clients, Mochi ice cream is the perfect snack for any business, no matter what industry or what size.
[gdlr_button href="http://mochiicecream.com/what-is-mochi-ice-cream/" size="medium"]LEARN MORE[/gdlr_button]