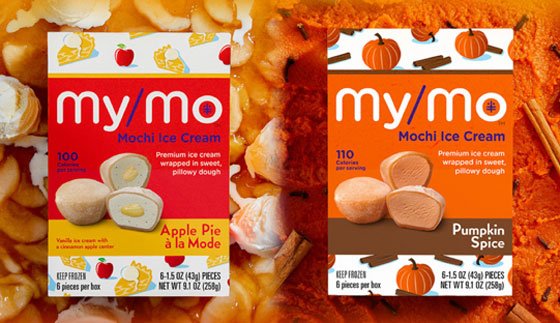 Thanksgiving Dessert Options
By: My/Mochi Ice Cream
Thanksgiving is almost here! While turkey may seem like the main star of the show, everyone knows Thanksgiving is all about the sides, snacks and sweet stuff. From the hors d'oeuvres to the endless array of pies and desserts… there are so many things to be thankful for!
Want to be the Thanksgiving hero without all the time it takes to food prep? Your snackthusiasts at My/Mo are here to help! Bring in My/Mo Mochi Ice Cream and you'll be sure to grab all taste buds' attention! The beauty of this miraculous match of magnificent mochi dough and marvelously mouthwatering premium ice cream is that it's a snack – so you can nosh on them before, during and after the turkey. They're pillowy balls of creamy hallelujah.
If you're looking for traditional fall flavors, be sure to pick up My/Mo's newest seasonal flavors!
Pumpkin Spice is My/Mo Mochi Ice Cream's not-so-basic combo of real pumpkin, graham cracker crumbs and a sprinkling of holiday spices (hello nutmeg, cinnamon and cloves!)
If you want to add a new kind of yum to your holiday snacking, try My/Mo's Apple Pie à la Mode! A droolworthy combination of cinnamon spicy apple filling inside creamy vanilla ice cream, surrounded by ooey, gooey, pillowy mochi dough.
So go ahead – snack yourself silly this holiday season. Happy Thanksgiving from your friends at My/Mo Mochi Ice Cream!