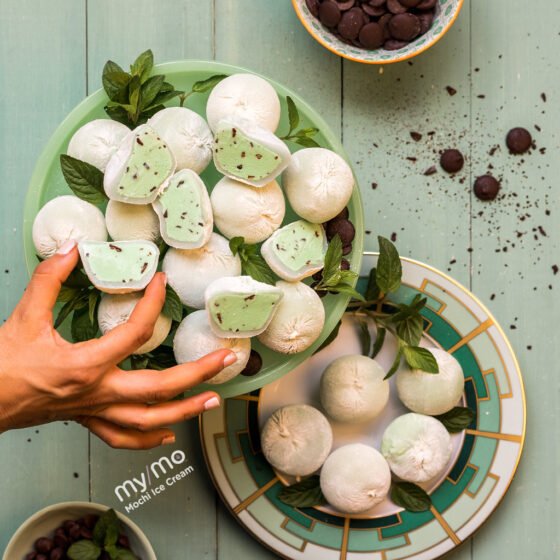 National Chocolate Mint Day
By: My/Mochi Ice Cream
So fresh and so [minty] green, green. Love a chocolate and mint moment? Today's for you! On this snacktastic day of February 19th, the U.S. National Confectioners Association observes National Chocolate Mint Day. So sink your teeth in and get ready to celebrate this minty cool day with your friends at My/Mo Mochi Ice Cream! #Yesplease
Did you know?
According to the National Day Calendar, chocolate was originally consumed as a hot beverage for medicinal purposes. Europeans weren't fans of how bitter it was, so they started adding mint, cinnamon and other spices to make it more palatable.
One of the first mass-producers of chocolate mints was Huyler's in New York.
Girl Scout Thin Mint cookies were first sold in the early 50's … and are still the most popular flavor today!
Sweeeet. So how to best celebrate National Chocolate Mint Day?
The simplest way: run out to the store and get your mint chocolate fix! Have you felt the cool of My/Mo Mint Chocolate Chip Mochi Ice Cream? It's premium ice cream studded with pure chocolate chips and wrapped in a layer of ooey, gooey, chewy mochi dough. Visit our store locator to search for My/Mo Mochi Ice Cream near you. It's like whispered sweet nothings to your taste buds.
Experiment in the kitchen with some marvelously mouthwatering mint chocolate recipes! From layered mint chocolate fudge to chocolate mint brownies and cookies and even a chocolate mint martini… my, oh my!
Let us know how you plan to get your snack on this #NationalChocolateMintDay and share these mouthwatering moments on social with @mymomochiicecream.