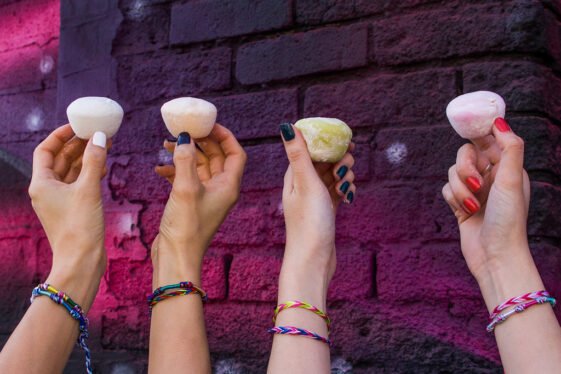 My/Mochi x Coachella
By: My/Mochi Ice Cream
April is here! For the experience chasers, sensory explorers, culture cravers and flavor fashionistas, that means Coachella is upon us. It's time to pack your trendiest clothes, rally your closest friends and head towards the California desert for the one of the most epic music festivals of the year.
Nothing beats being in Palm Springs with your friends and watching your favorite bands and music artists perform live. But a weekend partying in 100+ degree weather can take a turn for the worst if you're not prepared. Have no fear – My/Mo Mochi Ice Cream's got your back with these Coachella tips and tricks:
Stay hydrated! Heat stroke is no joke. And you don't want to miss out on your favorite performance, right? Always stay hydrated by drinking one bottle of water every two hours.
Wear comfy clothes. Chic and fashionable shoes may seem like a cool idea for the first hour or so, but after the 13th hour, not so much. Also, while the sun blazes during the day, the desert gets very cold at night, so don't forget to bring something warm.
Slather on the sunscreen. The sunshine and warm weather is what makes Coachella so much fun, but it can also leave you waking up with a nice sunburn. Bring on the SPF 50+!
Chill the F Out. Besides drinking plenty of water and finding shade when you can, grab a snack that'll keep you cool!
Snack on this: My/Mo Mochi Ice Cream is partnering with AEG & Goldenvoice to throw Coachella's Official Pool Party, Day Club Palm Springs, which has been dubbed "one of the hottest pool parties in the desert." Say whaaat?
My/Mo will be the exclusive pool side snack, blowing mouths' minds on both weekends of Coachella. Plus there will be performances by Diplo, Dillon Francis, Nora En Pure and more.
So come and #playwithit you flavor fashionistas. See y'all there or follow @mymomochiicecream on Instagram to join in on the fun!