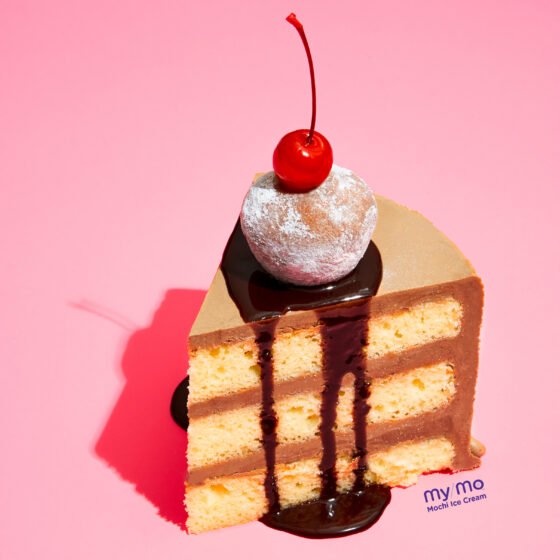 How sweeet. Happy National Dessert Day!
By: My/Mochi Ice Cream
Got a sweet tooth? Well, today is your day because it is officially National Dessert Day! How do you plan to celebrate this scandalously scrumptious day?
Calling all chocoholics…
For those who can't live without chocolate (which is many of you) – My/Mo's got your back. There are a ton of chocolate flavors to quench that cocoa craving with just a few bites, including Double Chocolate, S'mores and Chocolate Sundae. If you need a little extra crunch, there's also My/Mo Cookies & Cream Mochi Ice Cream – a wonderful blend of crisp chocolate cookies, rich premium ice cream and ooey, gooey mochi dough. If you want to amplify the fabulous flavor, you can sandwich your mochi ball in between two freshly-baked chocolate cookies.
For the fruit flava fashionistas…
Take an instant trip to Tropical Delicioustown with My/Mo's tangy flavors such as Sweet Mango or even Coconut Pineapple (available at your local My/Mo Mochi Bar™). More of a berry lover? A refreshing bite of Ripe Strawberry will be perfect for those sunny days when you need to cool off, and it will satisfy any intense berry craving. To amplify the fruity flavor of this dessert, get a pound of whole berries from the market and whip up some homemade strawberry sauce to coat your serving of mochi ice cream.
Want something minty fresh?
Embrace the cool sensation of mint with a frosty snack like My/Mo Mint Chocolate Chip Mochi Ice Cream. Finish off your meal with this minty cool dessert of premium ice cream filled with miniature chocolate chips and covered with a pillowy layer of sweet rice dough. This cold snack is delicious on its own, in a sundae or melted into the bottom of your cup of coffee. Affogato, anyone?
There are plenty of ways to celebrate National Dessert Day! Just know that your taste buds will thank you.