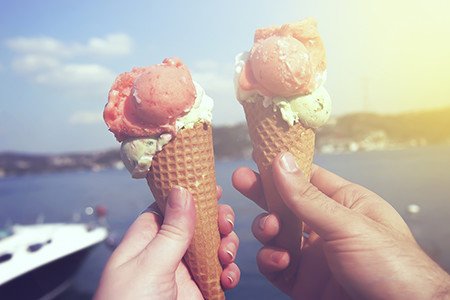 The History of My/Mochi Ice Cream
By: My/Mochi Ice Cream
My/Mochi Ice Cream Had Humble Beginnings
My/Mochi has been making pastries since 1910, and brought the international sensation called Mochi Ice Cream to the United States in 1993. The word mochi actually comes from an interesting place. In Japanese society, a rice dough named "mochi" was known for being extremely sweet, and also satisfying hunger extremely well. Pastries from My/Mochi were often made with mochi, until one day, they created a recipe that include that sweet, sweet rice dough and premium ice cream in the center. Mochi Ice Cream was born, and although people didn't know it at the time, it would end up revolutionizing the way that we look at ice cream forever. Mochi is one of those delectable treats that brightens up the day of everyone who tries it.  Want to know the history of Mochi, how it's made, and more? Here's the history of Mochi, how My/Mochi got started, and even who invented the delicious Mochi Ice Cream that we enjoy today.
What is Mochi?
Mochi is made up of a sweet, chewy rice dough and premium ice cream. The temperature and viscosity of both ice cream and the dough itself needs to be altered in order for it to work, but once they're altered, it's one of the most delicious foods on Earth. It was created by Frances Hashimoto, who also just so happens to be the former president and CEO of My/Mochi. My/Mochi started off as a pastry company that was transformed into an international sensation with the creation of Mochi Ice Cream. Mochi is now one of the most sought after treats internationally, finding itself in popular stores like Ralph's, Albertsons, Trader Joe's, and many more.
Mochi Makes it Happen
My/Mochi made its way to the United States in 1993, beginning production of Mochi Ice Cream and introducing people across the country to their new favorite treat. There were seven flavors at the outset. Today there are twelve, including plum wine, vanilla, strawberry, mango, chocolate, mint chip, cookies n' cream, kona coffee, green tea, and more. Because of the diversity in flavors, more and more people are trying mochi every single day.From there, mochi took off, and today you can find it as a staple in most freezers. Mochi is popular with people of all walks of life, not just those interested in Asian culture. We recommend that you try all of the different flavors before you make a judgement call on whether or not mochi is right for you.
Have You Tried Mochi?
Mochi is one of the most delicious desserts that you can have. Hashimoto not only made ice cream better, they also made ice cream portable, so that you can bring it along with you if you go to a picnic or a potluck. Trying the different flavors is awesome fun too, especially if you can visit one of the actual locations that mochi has, in Torrance, Little Tokyo, and even stretching further. Have you tried mochi? It's the best dessert out there. Give it a shot if you haven't, and give all of the different flavors a try. You might just find you found your new favorite dessert.