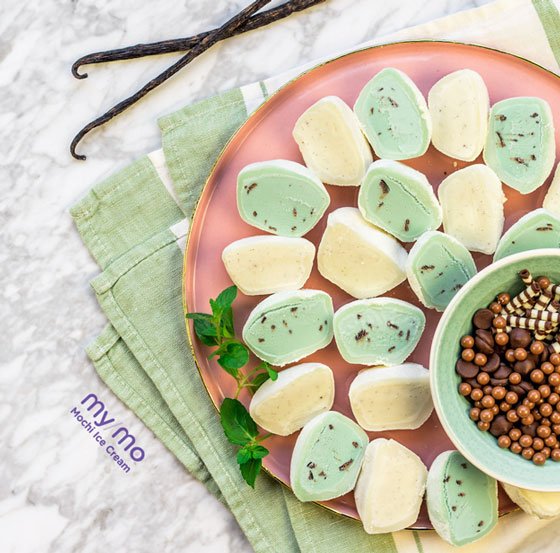 Happy St. Patrick's Day!
By: My/Mochi Ice Cream
Happy St. Patrick's Day! Oh it's easyyy to be greeeeeeennnn! On this snacktastic day of March 17th, everyone's a little Irish. Put on your best green outfit, eat and drink your favorite green snacks and drinks and let's celebrate because today's your lucky day!
How can I celebrate?
In honor of the four-leaf clover, here are four ways to observe this marvelously mouthwatering holiday!
All green everything. This is the easiest and the most fun way to celebrate St. Patrick's Day! A small green scrunchie or belt is not enough. We're talking head-to-toe, monochromatic green realness. Why? Because, whatever. Show off your sweet swag in a post and make your friends green with envy!
Learn how to do an Irish jig. Since everyone is spending more time at home, learning an Irish jig in your living room means staying active and having fun. Sweeet! Google your way to learning an Irish jig!
Green beer & green snacks! We are here for this St. Paddy's tradition! Try this easy recipe in the kitchen to bring the paddy to you. All you need is a little green food coloring and beer.  Add 1 drop of food coloring per 12 ounces of beer.  It'll taste like regular beer, but with a unique and colorful twist! Treat your tonsils to nom nom nirvana with My/Mo Green Tea Mochi Ice Cream. If you're more of a minty cool snacker, grab a box of our Mint Chocolate Chip flavor!
Make a traditional Irish meal. There's the classic corned beef and cabbage, or perhaps you'd like to try a hearty Irish stew. It's a delicious way to share in Ireland's culture!
Let us know how you plan to celebrate #StPatricksDay and share your mouthwatering moments with us on Instagram @mymomochiicecream. Happy snacking!