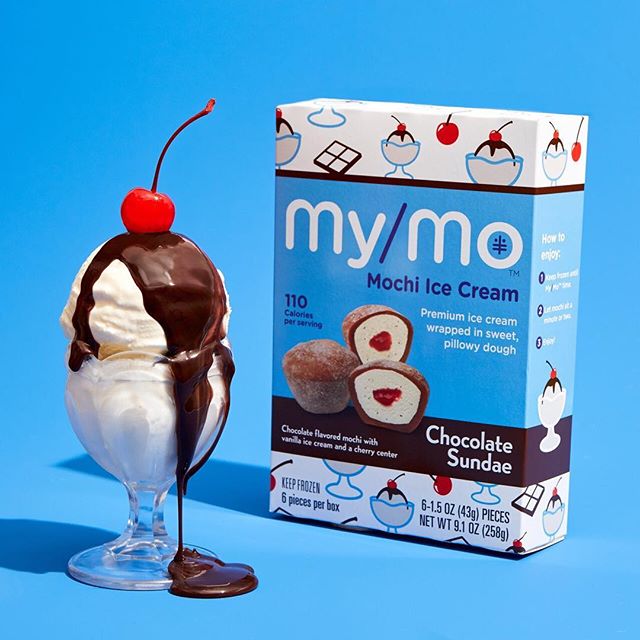 Happy National Sundae Day!
By: My/Mochi Ice Cream
Hey, ice cream lovers – ready for Sundae Fun Day? Today, on November 11th, we're celebrating National Sundae Day around the country. And of course, the team at My/Mo Mochi Ice Cream is HERE. 👏 FOR. 👏  IT. 👏
What's in an ice cream sundae?
An ice cream sundae usually consists of one or two (or five?) scoops of ice cream, drizzled with syrup or sauce. But it doesn't end there! You can also add whipped cream, sprinkles, a maraschino cherry and an endless array of other toppings, My, oh my!
History of the Sundae
Who invented this marvelously mouthwatering dessert, anyway? This question is still up for debate to this day, as there are two American cities claiming the Sundae throne.
Evanston, IL is one of the first towns to call dibs on this invention. In 1890, Evanston was one of the first towns to prohibit selling soda water on Sundays. That didn't stop local soda fountains – on Sundays, they began selling ice cream sodas, minus the soda – leaving the best parts: ice cream and syrup. Genius.
Ithaca, NY also claims this sweet snack. Chester Platt, owner of the Platt & Colt's drugstore in 1893, prepared a dish of vanilla ice cream, cherry syrup and a maraschino cherry for his Reverend, who named it after that day. Sweeeeet!
So… how can I celebrate National Sundae Day?
Here are some tasty ways to indulge today.
Host your own Sundae Bar. What better way to celebrate the ice cream sundae than to host your own Sundae party with your friends? Talk about a happy hour.
Create a My/Mo Mochi Ice Cream Sundae. Take two or three My/Mo Mochi Ice Cream balls and place them in a bowl, dish or mug. Mix and match Vanilla Bean, Double Chocolate, Ripe Strawberry, or whatever you'd like! Then layer on the ooey, gooey, drizzly sauces and syrups, sprinkled with your favorite toppings for good measure. Oh, and don't forget the whipped cream!
Snack on My/Mo Chocolate Sundae Mochi Ice Cream! If you want all the decadence of an ice cream sundae in just a few bites (and sans mess), look no further. My/Mo's got your back with the Chocolate Sundae flavor — a right-side out version of a classic sundae, no spoons attached. Premium vanilla bean ice cream covered in chocolate-flavored mochi dough and stuffed with a cherry center. My/Mo Chocolate Sundae Mochi Ice Cream is truly the cherry on top.
Let us know how you plan to celebrate #NationalSundaeDay! Blow your mouth's mind and share the love on social with @mymomochiicecream.