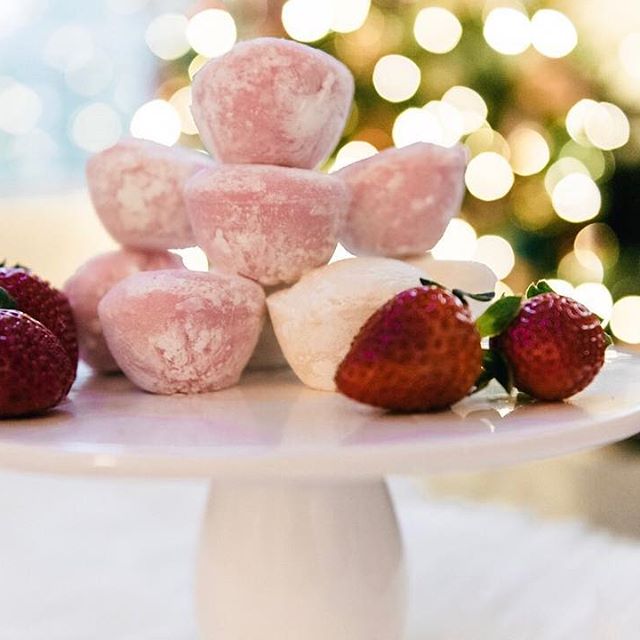 Fun Hacks for a Doughlightful Holiday Party
By: My/Mochi Ice Cream
The holidays are among us and all is mochi and bright. Planning a holiday party but don't know where or how to start? No fear, Team My/Mo is here! We've got some holiday hacks to make sure your party is 💯.
Pour It Up
First thing's first: libations. To throw a fabulous holiday party, plan for the drinks you'll be serving. If you've got some room in the budget, then set up a stocked bar and even hire a bartender to serve your guests. If you're working with a more moderate budget, leave out a stocked drink cart and a cocktail recipe book for reference.
Leave No Person Hangry
We live for mouthwatering moments – so we recommend tasty food as an essential for any successful party! Set up a smorgasbord of portable and poppable bite-sized snacks that are easy to eat while standing. Think: charcuterie boards, chips and dips, homemade apps and of course… My/Mo Mochi Ice Cream! It's the perfect snack that comes in an endless amount of flavors. If you've got fruit lovers in the crowd, have them try Sweet Mango, Ripe Strawberry or even Vanilla Blueberry! Chocoholics can satisfy their sweet teeth with Double Chocolate, Mint Chocolate Chip and Chocolate Sundae. While chestnuts are roasting on the open fire, your guests can curl up with some My/Mo S'mores Mochi Ice Cream. You don't have to travel far – simply check out our store locator to find My/Mo at your nearest retailer in the frozen section or grab-and-go aisle!
Drinks? ✔️ Food? ✔️ But here are some Holiday Safety Tips:
Have non-alcoholic drinks and water for designated drivers, non-drinkers and guests
Offer to call a cab or a ride-share service for any guest that is not a designated driver
Set up your guest room for the night as a back-up plan so that guests can stay the night and drive home in the morning
If you've got the drinks flowing, the marvelously mouthwatering snacks and follow the right hosting tips, you'll surely throw a successful holiday party.
Wishing you a doughlightful holiday season and a happy chew year!