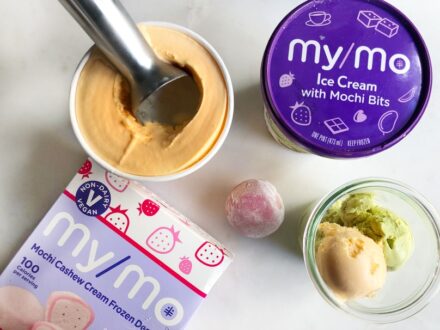 9 Reasons Why Everyone Loves Ice Cream
By: My/Mochi Ice Cream
Do You Love Ice Cream? Here's 9 Reasons Why Everyone Does
I scream, you scream, we all scream for ice cream! Everyone loves ice cream, but why? Here's the nine reasons why everyone loves a scoop of their favorite, frozen treat.
1. There's Endless Amounts of Flavors
Don't like chocolate? Not a fan of vanilla? Maybe you're not that into fruit-flavored ice cream? Maybe you only eat mochi ice cream? No matter what you like, there's an ice cream flavor out there for you.
From sherbet to bacon and everything in between, anything you could possibly want in your ice cream, you can have. There's no right or wrong flavor out there.
2. Ice Cream is Good During Every Season
Ice cream is the perfect treat for any season. In the summer, you can cool off from a delicious scoop of your favorite flavor of ice cream and in the winter, you can bring out the best in the cold weather by enjoying your favorite slice of hot pie accompanied by your favorite flavor of ice cream.
3. You Don't Have to Fuss Over What To Eat for Dessert
Rather than fussing over what to eat for dessert, just bring out the ice cream. Everyone loves a good scoop of their favorite flavors. Its simple to make and serve, making it the perfect treat for families, parties, and other events.
4. Ice Cream Makes Your Sadness Go Away
When you're sad, a big bowl of ice cream will be there to cheer you up. The silk-smooth bowl of ice cream is scientifically proven to help make breakups, heartaches, and other major causes of sadness easier to get through.
5. You Can Eat Ice Cream Anywhere
Ice cream can be served many different ways. In a cup, in a cone, in a double cone—the possibilities are endless. You can take your favorite frozen treat with you wherever you go when it's wrapped nicely in a cone. Keep one hand free and hold tight to your double scoop of goodness in the other.
6. Ice Cream Lasts a Long Time
For those of us that are major ice cream lovers, but can't quite eat the whole carton in one sitting, ice cream wins again. Rather than throwing away the remaining amount of dessert, you can simply throw it in the freezer.
Ice cream can last weeks and even months in the freezer and can be enjoyed time and time again.
7. You Can Make Ice Cream at Home
Using a food processor or even just a bag of ice and salt, you can make your own delicious mix of ice cream. This allows you to create any flavor under the sun. From the most exotic fruits to cookies and cream and everything in between, you have full creative freedom to make whatever you want.
8. Ice Cream Goes with Everything
Ice cream is not only great by itself, but also with a wide variety of treats. Slap a scoop of vanilla bean on your favorite flavor of cake, try mint ice cream with a rich brownie, make that stuffed crepe even better with a scoop of chocolate ice cream—the possibilities are truly endless.
9. Ice Cream Soothes Sore Throats
When you've come down with a bug, the last thing on your mind is leaving the house. Bring the comfort of ice cold ice cream to your home and soothe your aching throat. Just a single spoonful will help ache your sore throat and keep you content.