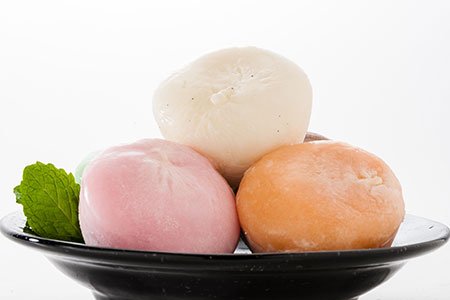 5 Desserts Made Better with Ice Cream
By: My/Mochi Ice Cream
5 Desserts That Are Way Better with a Scoop of Ice Cream
There are so many reasons why ice cream is the best dessert on the planet. No matter the weather, flavor, or time of year, ice cream is the perfect treat for anyone of any age. There's multiple flavors, endless toppings, and never ending love for this tasty, frozen treat.
You might think, "How can ice cream get any better?" Not only can it get better, but it makes other things better. Below are 5 desserts that are only made better with a scoop of your favorite ice cream.
1. Cake
Cake is already pretty amazing, but have you ever tried ice cream cake? This famous birthday treat can be transformed into an ice cream pie that can make any event just a little more special.
Ice cream cake is exactly what you would think. You simply sub your fluffy cake mix for a pan of ice cream. Pop it in the freezer and cut it into slices, just as you would with traditional cake. You won't bite into a fluffy piece of cake, however. You'll bite into a perfectly frozen piece of cake, hopefully loaded with your favorite toppings.
2. Pie
There's nothing better than a piping hot slice of apple pie—except for one smothered with ice cream. The richness of the apple flavor, matched with the flakiness of the crust is perfectly complimented by the sweet flavor of vanilla bean ice cream.
You can't go wrong with a scoop of vanilla bean ice cream on pie. Everyone loves classic vanilla. Vanilla bean ice cream has specks of vanilla beans in every scoop, making it the flavor extra potent.
Apple, cherry, and other types of flavorful pie can be perfectly complimented by the potent vanilla bean, ensuring that the flavor of the ice cream isn't completely taken over by the pie.
3. Sandwiches
Ice cream sandwiches are every kids favorite after school treat. No matter if they're made with a cookie crust or classic chocolate crust, ice cream sandwiches are sure to make your hot summer a little cooler.
Ice cream sandwiches can be found everywhere, but are also extremely simple to make.  All you need is your favorite type of crust—try cookie dough, graham crackers, or even brownies, the possibilities are endless. Freeze your favorite ice cream flavor between these two crusts to create your own, heavenly frozen treat.
4. Fruit
For some, fruit is boring on its own. There's so much you can do with fruit and ice cream. Make your own fruit flavored ice cream, use berries or chunks of fruit as your topping, or even use fruit as your ice cream base.
The sweetness of fruit combined with the creamy texture of the ice cream makes for the perfect combination for dessert, or even just a snack.
5. Waffles
Want to make your breakfast a little more fun? Add a scoop of your favorite ice cream to your piping hot, fluffy waffles. We love all flavors, but if you want to keep a theme for your breakfast, we highly recommend a scoop of coffee ice cream. This brings out the sweetness in your waffles, but also gives you a pick me up, packed with caffeine.