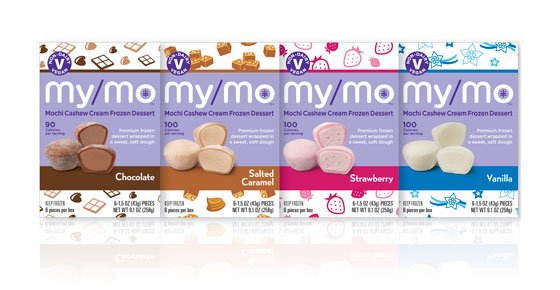 Yummy Vegan Ice Cream is No Unicorn
By: My/Mochi Ice Cream
I scream, you scream, we all scream for ice cream… and who doesn't love mochi ice cream? For those who are looking to reduce or eliminate dairy, are allergic or lactose-intolerant – don't despair! Non-dairy and vegan mochi ice cream is no unicorn; it does exist thanks to My/Mo Mochi Ice Cream. Permission to pinch yourself.
My/Mo Mochi Ice Cream offers four fabulous flavors of non-dairy and vegan cashew cream frozen desserts. Why cashew cream? Because it has a silky smooth, luscious, rich texture and it eats just like dairy ice cream. And let's not forget those pillowy balls of creamy mochi dough. Can we get a hallelujah?
Included in this non-dairy and vegan line of My/Mo Mochi Cashew Cream Frozen Dessert are:
Strawberry
Chocolate
Vanilla
Salted Caramel
The best part? This insanely delicious creation – a precious nugget of vegan ice cream wrapped in a sweet, pillowy rice dough – is only 90-100 calories per serving and completely gluten-free. Non-dairy and vegan mochi ice cream lovers everywhere, rejoice!