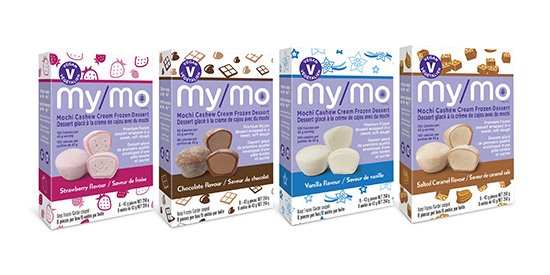 Oh, Canada!
By: My/Mochi Ice Cream
Great news for our friends in Canada: My/Mo Mochi Ice Cream is expanding into the Canadian market beginning in early April.
Over the past year, My/Mo Mochi Ice Cream has delighted snackers across America with flavor-filled, bite-sized frozen treats. As market leader and top innovator in the frozen novelty space, we are continuing to make headway with the vision to deliver our snackable mochi ice cream experience to the masses with expansion to freezer aisles outside of the U.S.
Made with a scoop of rich, decadent frozen cashew cream and wrapped in pillowy soft sweet rice dough, My/Mo Mochi Cashew Cream Frozen Dessert is a carefully crafted vegan-friendly snack. At just 100 calories per mochi ball, the new frozen dessert is the perfect choice for every snacking occasion.
Beginning in April, My/Mo Mochi Cashew Cream Frozen Dessert will be available in retail packs of six in the freezer aisles of Metro and Longo's supermarkets. Sounds good, eh?