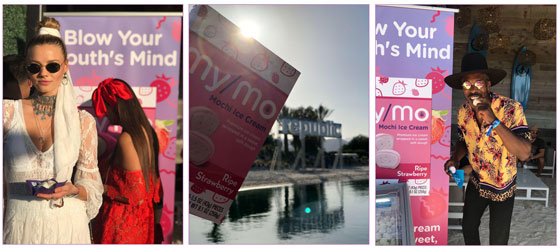 My/Mochi at Coachella
By: My/Mochi Ice Cream
Another epic year at Coachella came to an end this past weekend. Enter: Recovery Mode.
Deep in the desert, the festivities didn't end when the headliners left the stage. After the party were the afterparties! These events have become even bigger than the festival itself and My/Mo Mochi Ice Cream was proud to be a part of the buzz. The Daily Meal covered this fabulous fiesta in their post, "After Coachella, Celebrities Were Eating and Drinking at These VIP Parties."
Republic Records, responsible for some of the biggest musical artists at Coachella, threw a party at the utopian Zenyara Resort, where celebs and flavor fashionistas went to cool down and chill between shows. Next to the actual bar was the My/Mo Mochi Bar, where guests snacked on a smorgasbord of flavors "in another completely perfect and novel pairing with the scorching hot weather." Take off your flower crown, let your hair down and grab a My/Mo!
Coachella has gone from celebrating music and art to embracing the best food and drink… My/Mo Mochi Ice Cream is no exception.