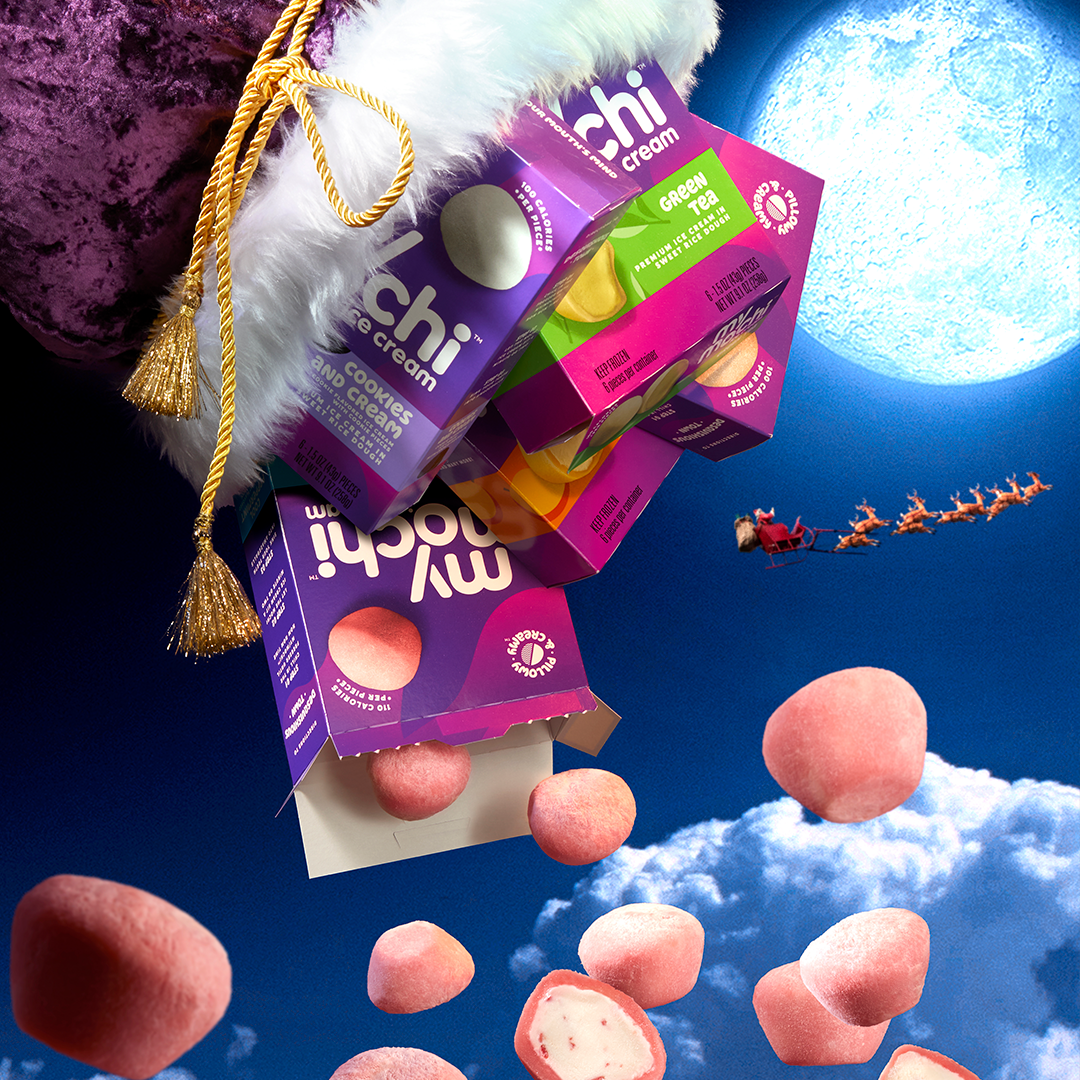 Ho Ho Whoaaaaa! Top 5 Ways to Celebrate Squishmas & Chew Year!
By: My/Mochi Ice Cream
It's that squishtastic time of year again! The air is crisp, the parties are plentiful, and the festive food is 🤤.  You've double-squished your list and wrapped up all your puffnificent packages, now it's time to celebrate with some mouthboggling holiday fun! 
How do you stay calm and desquishious during this bustling holiday season? Here at My/Mochi, we're all about keeping the season joyplayful and bright!
Read on for our list of 5 chewforic ways to celebrate Squishmas and ring in the mochi Chew Year!
#1 Make Dough Angels! ☃️
Proper form for dough angels is face down, mouth open. And when you're done, try a doughball fight! ☃️ 
#2 Eat Green Snow! ❄️
We said green, not yellow! Green is a winter wonderland in your mouth. Yellow on the other hand…err… that would be gross
#3 Go see The Nutsnacker! 🩰
Live in theaters now through Squishmas!
PS – JK, The Nutsnacker isn't real, but it should be
#4 Pet a Reindeer 🦌
Fun Fact! Which of Santa's reindeer is most likely to get caught in a peppermint blizzard?
BLITZEN, obvs!
Unable to head to the North Pole this year? We got chew! Go ahead, pet the screen! Blitzen loves a good scratch on the nose.
#5 Deck the Balls with Cool Peppermint My/Mochi! 🍥
Try a spin on a classic holiday favorite — milky, melty peppermint flavored ice cream sprinkled with crunchy minty bits, all wrapped in chewy, pillowy mochi dough. It's the wintery blast of peppermint coolness your mouth will crave this holiday season.
Have you been Naughty or Nice-cream this year?
Let us know! Tag @mymochi on social, use #mymochi #mochiicecream, and you might just get your very own Chew Year surprise! 😉 Merry Squishmas and Happy Chew Year everyone!
Your friends at My/Mochi