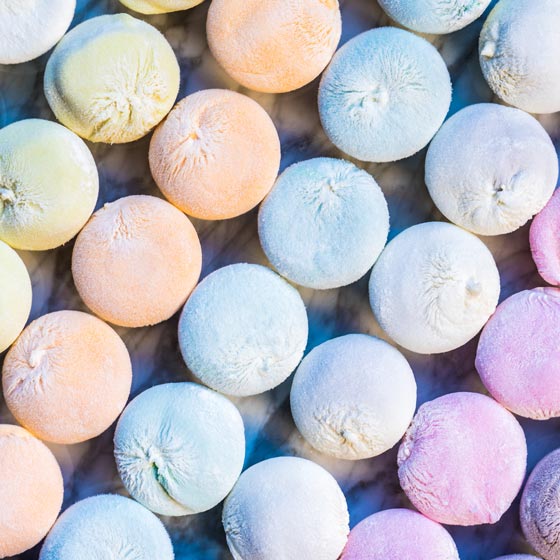 No gluten, no problems.
By: My/Mochi Ice Cream
Here's a math problem: what is the sum of premium ice cream and pillowy, soft and sticky rice dough? Hint: it's gluten free mochi ice cream — a deliciously doughy, satisfying ice creamy snack — that dreams are made of.
Calling all snackers: here's a new way to experience ice cream. ALL fabulous flavors of My/Mo Mochi Ice Cream are gluten free, from Green Tea to Sweet Mango to Cookies & Cream. These colorful snacks are perfectly portable and poppable – made with the best ingredients and only 110 calories per serving. Each ball of My/Mo Mochi Ice Cream is a majestic marriage of:
Marvelously mouthwatering premium ice cream (deliciousness)
Ooey, gooey dough made out of sweet rice flour (mochi)
Lots and lots of love!
Also popping up in grocery stores near you: My/Mo Mochi Cashew Cream Frozen Dessert! They're non-dairy and vegan. Goodbye dairy, hello cashew cream. These 90-100 calorie balls of goodness offer the same undeniable creaminess and amazing taste that you'll find in regular ice cream. Flavors of My/Mo Mochi Cashew Cream Frozen Dessert include Strawberry, Salted Caramel, Chocolate and Vanilla.
These non-dairy, vegan frozen snacks are also gluten free mochi. Hallelujah!
Too good to be true? Check out the My/Mo Mochi Ice Cream store locator to find the nearest grocery stores that sell these delectable and delicious gluten free mochi snacks. It'll blow your mouth's mind.