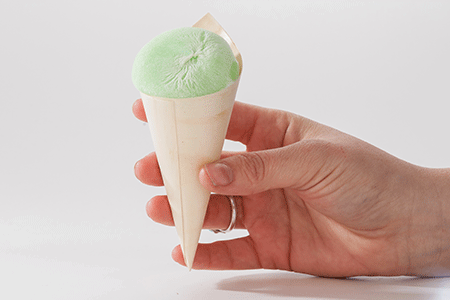 FAQ | Everything You Need to Know About Mochi Ice Cream
By: My/Mochi Ice Cream
FAQ | Here's Everything and Anything You Need to Know About Mochi Ice Cream
Mochi is a unique dessert that is loved by many across the globe. This treat, originating in Japan, holds true to its fun, flavorful, and delicious reputation.
Not many have experienced the taste and texture of mochi ice cream. To help them out, we've answered some of the top frequently asked questions about this scrumptious delicacy.
Q. What is Mochi
A. Mochi is the thin layer of sweet dough that is wrapped around a center of scrumptious, premium ice cream.
Mochi is made from a sweet rice flour that is pounded into a soft and chewy texture that melts in your mouth. The creation of this dough started as a Japanese New Year tradition where many would gather to manually pound the dough into what you know as mochi.
Our mochi is now created with state of the art machinery that creates a subtle flavor, smooth texture, and unique feel.
We stretch out our mochi and wrap it over an abundance of flavors to make a fun and enjoyable dessert for families around the nation.
Q. What Flavors of Mochi Ice Cream are There?
A. We are proud to offer an abundance of mochi ice cream flavors. Our current flavors that we offer are:
Q. How Do You Eat Mochi Ice Cream?
A. However you like! There are many different ways to enjoy mochi ice cream. Take a bite, plop the entire mochi ice cream ball into your mouth, cut them into pieces—the possibilities are endless.
One of the most popular ways to eat mochi ice cream is on the go! Grab a mochi ice cream treat and head out the door. You can enjoy this cool, creamy dessert on the way to work, school, or if you're simply on a stroll around the neighborhood. Mochi ice cream has the versatility to go where you go.
Q. Is Mochi Vegan Friendly?
A. Yes! Our non-dairy and vegan line of product is made with cashew cream – so it still has the same creamy texture and same marvelously mouthwatering taste! See our mouthboggling flavors here.
Q. How Many Mochi Ice Cream Come in Each Package?
A. Currently, our mochi ice cream comes in packs of six.
Many buy multiple flavors of mochi to have a variety of flavors for guests to try, while others like to binge on their favorites. No matter what flavor you like, you'll be able to enjoy this treat for weeks.
Q. Where Can I Buy Mochi Ice Cream?
A. Mochi ice cream is currently sold in major grocery chains across the nation. To find a store that sells mochi ice cream close to your home, click here. By simply typing in your zip code, you can start enjoying mochi ice cream!