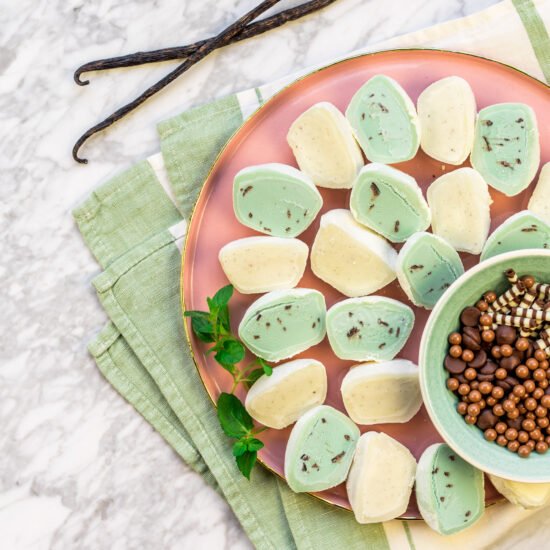 Best Ways to Eat My/Mochi Ice Cream
By: My/Mochi Ice Cream
I scream, you scream… who doesn't scream for My/Mo Mochi Ice Cream? The best part about everyone's favorite dessert is that it's so versatile and can be snacked on in countless ways.
For those snackthusiasts who haven't tried My/Mo Mochi Ice Cream — you are missing out on a textural adventure! This frozen dessert is made with creamy, dreamy premium ice cream and wrapped in a sweet, pillowy rice dough. No spoons, cups or cones required – just your fabulous self to carry these mochi balls on-the-go. Here are some of the best ways to eat My/Mo Mochi Ice Cream… because it's okay to play with it.
My/Mo Mochi Ice Cream Sundae
What's sweet about mochi is that it adds texture (because chewing your ice cream is fun!) Scoop some sorbet or gelato in a cup, then garnish with two or three My/Mo Mochi Ice Cream balls on top. It'll truly be the mochi on top of your sundae.
My/Mo Mochi Ice Cream In A Cookie Sandwich
What's better together than cookies + ice cream? Pillowy mochi dough + cookies + ice cream. Think about cookie recipes that will pair well with the available flavors. For example, snickerdoodle cookies pair perfectly with My/Mo Vanilla Bean Mochi Ice Cream. Or enjoy the chocolately chocolate combo of a chocolate cookie and My/Mo Mint Chocolate Chip Mochi Ice Cream. 
Pinch it. Poke it. Squeeze it. Stack 'em.
The beauty of My/Mo Mochi Ice Cream is that it's best when eaten by itself!
No matter how you choose to #PlayWithIt – My/Mo Mochi Ice Cream is the best snack to enjoy at any time of the day. You can get your hands on My/Mo in the frozen food aisle of a grocery store. Not sure where to find it? Use the store locator here and it will show you where you can scratch your snack itch.