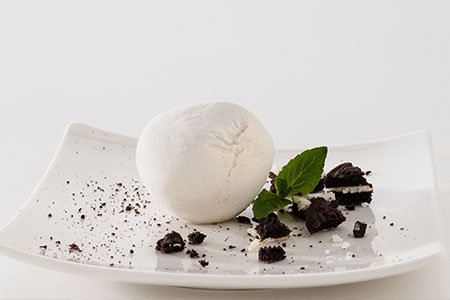 4 Reasons to Eat More Mochi Ice Cream
By: My/Mochi Ice Cream
4 Reasons You Should Be Eating More Mochi Ice Cream
For those of you that know and love Mochi Ice Cream, you're welcome. For those of you who haven't tried Mochi Ice Cream, put it on your list of to-dos. You'll thank us later. Mochi comes in convenient serving sizes and many scrumptious flavors! Keep reading to find out four reasons why you should always keep a box of Mochi Ice Cream in your freezer.
1. It's More Exciting Than a Regular Old Sweet Treat
You've had brownies, you've had cake—but you're looking for something lighter and different. Let's face it, you need Mochi Ice Cream in your life. The unique flavors and texture of Mochi are exciting and delicious. Premium ice cream encased in our fresh, pastry-like Mochi dough—you really can't go wrong with whatever flavor you choose. They're all scrump-dilly-icious! Hosting a dinner party? Impress your guests with something more exciting than an apple pie. Cut your favorite Mochi Ice Cream in half and serve Mochi tapas! You can even step up your presentation game and add a doily and some extra powdered sugar or chocolate sauce! Believe us, you haven't experienced the true deliciousness of dessert until you've tried the unique and flavorful Mochi Ice Cream.
2. It Makes You Smile
Ever seen someone eat ice cream and not smile? Nope, we didn't think so. Ice cream is scientifically proven to lift your spirits and make you happier! Research suggests that a little cold ice cream treat taps into the same pleasure center in the brain as listening to your favorite song on the radio or winning the lottery! Take a bite of Mochi Ice Cream, we promise you'll smile.
3. It's the Perfect Grab-and-Go Snack
Mochi Ice Cream goes beyond the typical ice-cream-in-a-bowl occasions. Since no bowl or spoon is required, Mochi Ice Cream is the perfect snack for anytime of the day. Whether you're in a rush to get out the door or you're hanging with friends, Mochi is perfect for any occasion.
Pick up a box of Mochi Ice Cream and you will be glad you did. They make the perfect mid-morning snack, afternoon pick-me-up or late night bite.
4. It Has Surprising Health Benefits
There's no denying that Mochi Ice Cream isn't exactly a health food. But believe it or not—ice cream actually provides your body with a number of substantial nutrients. A little Mochi Ice Cream a day keeps the doctor away! The delicious and sweet treat provides your body with a handful of beneficial nutrients including bone-strengthening calcium, blood-pressure-lowering potassium, and energizing B vitamins. Ice cream also supplies your body with a decent amount of protein which is essential for building muscle, and preventing weight gain! If you're craving a sweet treat, go with Mochi Ice Cream! It's better for you than most desserts.
Food is one of life's greatest joys and everybody deserves something sweet in their life. If you're tired of those more traditional desserts like brownies and cake, it's time to make a change. Start keeping Mochi Ice Cream in your freezer—your taste buds will thank you!